One of the world's most popular and exciting themed runs, which is best known for the runners getting splashed with organic colors while running, took place for the third consecutive year in Belgrade under the name Color RUNNING powered by Tikkurila.
At ten o'clock sharp, the sunny Dorćol morning echoed with an air horn blast that kicked off the kids race drawing as many as 250 children aged one to ten.
After the warm-up, the impatient youngest runners gathered at the starting line to tear across 900 feet and—scattered with colors from head to toe—get their medal and a deserved color packet. The kids enjoyed many fun activities prepared by the organizers and the partners in the kids version of the paint race titled Color RUNNING powered by Tikkurila.
Come midday, 800 adult runners started the most colorful city run wearing crisp white Color RUNNING T-shirts, getting blasted with vibrant colors every half a mile by the volunteers and finishing the 2.5-mile run marbled with six colors from head to toe. After the Urban Fitness Hangar team's warm-up, the race was kicked off by Stari grad City Municipality President Marko Bastać, who joined his constituents in the 3-mile run.
Miloš Milosavljević was the first to get to the finish line, while Biljana Cvijanović was the fastest female runner.
The run's gold sponsor Tikkurila rewarded the winners in all categories, and this year saw the youngest, the oldest, and the most cheerful contestants receive awards for the first time.
Color RUNNING powered by Tikkurila was organized by the RUNNING sports club.
Belgrade's Fitness and Recreation Association co-organized and supported the race.
Partners included the Stari grad City Municipality and the city of Belgrade's Secretariat for Sport and Youth, while Jeep provided technical assistance.
Other backers endorsing the event were Nikon, Frutabela, Reebok, Esensa, Oriflame, Knjaz Miloš, Urban Fitness Hangar, Ustanova kulture Parobrod, and many more.
Media partners: Play radio station and NOIZZ.
Executive producers: Marsh Creative Production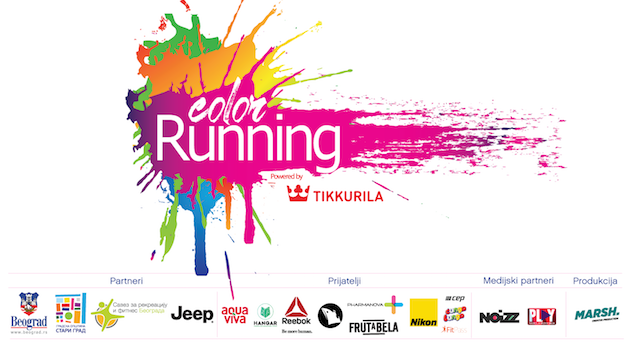 back
more pictures