Indigo Festival 2017 – Truth and Lies, which took place between 6 and 8 September 2017 in the "Indigo Quarter" (at the French Revolution Square and in the streets surrounding it), presented us with lectures, conversations, concerts, exhibitions, shows, performances and workshops on the syntagma of "truth and lies".
During these three days, 35 events took place and the festival hosted more than 90 lecturers, designers, performers, musicians and other artists from 14 countries. More than 2000 local and foreign visitors attended the festival.
During the 3 festival day Five exhibition were open, also a three-day programme of lectures and talks, which was attended by the cult British designer Jonathan Barnbrook, cofounder of the Société Réaliste collective Ferenc Gróf, Đorđe Balmazović – Žole from the Serbian collective Škart, one of the most renowned Croatian designers Lana Cavar and renowned philosophers Renata Salecl and Robert Pfaller.
Glej Theatre staged two shows: Križanke Church was the set for two musical events: the audiovisual performance Alex Augier: _nybble_ and Where Do You Draw the Line?, a project by the Croatian singer-songwriter Sara Renar.
A concert of the French band Papooz was held at the French Revolution Square.
The ZRC SAZU Atrium became the stage for the premiere of House, a dance performance by choreographer Matej Kejžar, while Križanke Church staged the Better News performance by the artist Miyuki Nishizawa.Three workshops were carried outIn the ZRC SAZU Atrium we listened to two events:The "Indigo Quarter" was lit every night by light objects and installations by Borut Savski and Stefan Doepner, on Thursday night we were also able to walk through the quarter with KUD Ljud at the Night-Time Streetwalker."Hair editor" Robert transferred his hair studio to the French Revolution Square and gave passers-by new haircuts in public.
Each day ended with a DJ Night
Indigo festival was organised by City Museum of Ljubljana and Marsh Creative Production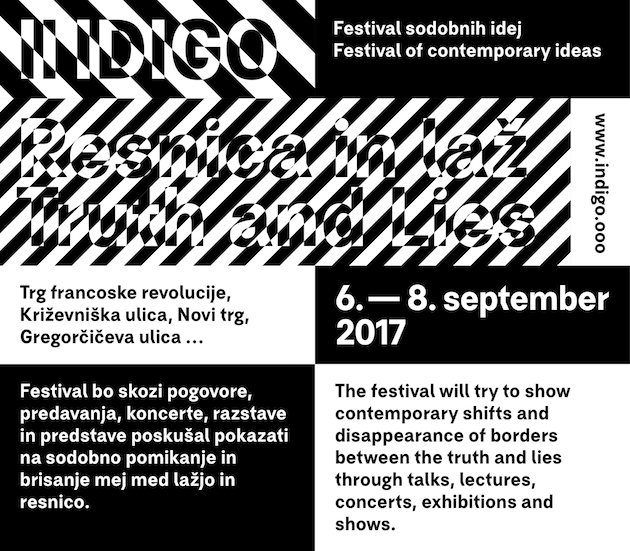 back
more pictures