On Saturday 10 September the first edition of the festival Indigo – No Fear ended with Reflections, an impressive audio-visual performance inside the Križanke Church. During the festival's four days, visitors had the opportunity to partake in numerous events that took place in Ljubljana's "Indigo" quarter (around the Gosposka and Križevniška streets and between the French Revolution Square and Novi trg Square).
We opened three exhibitions: Fist in the eye – a poster exhibition on the French Revolution Square, the exhibition Retorika – The Moment After by Bara Kolenc and Atej Tutta at the Vžigalica Gallery, New Analogue by the Young Balkan Design Network in the atrium of ZRC SAZU and one installation: Bus Station, designed by Lara Papov and Gregor Rozman, students at the Academy of Visual Arts.
We prepared a three-day programme of lectures and discussions Hard Talks with the active involvement from local and foreign experts (topics: Design; Architecture, art, design; Ecology).
Two shows have been performed: Thyestes, a new production by director Ivica Buljan and the show Oh, the Time for Tomorrow has Finally Come, a collaboration between Poljane Secondary School and the Secondary School for Design and Photography in Ljubljana.
We prepared a three-day programme of experimental documentary cinema, essay film, ethnography and digital images, a selection of works made by Nace Zavrl, a film studies graduate from the prestigious King's College London.
The Križanke courtyard was for three days occupied by the Poligon Creative Centre, a platform for the enablement of the self-employed. Students of the Secondary School for Design and Photography in Ljubljana prepared a an open school of drawing for the passers-by, while Hair editing by Robert gave haircuts right on the Križevniška Street during the festival.
The Križanke Church was the venue for two concerts: Bowrain and Reflections.
The facade of the City Museum of Ljubljana came to life each evening of the festival with video mapping.
Every day of the festival ended with a DJ set (Drago Ivanuša, Sašo Kalan, Mitja Vrhovnik Smrekar, DJ Bayo).
The festival hosted more than 100 lecturers, designers, musicians and other artists from eighteen countries. It was visited by thousands local and foreign visitors.
At the end of the festival we would like to thank all of our partners, who supported us in this new project, everyone who poured their energy into the project and, of course, our visitors. It is thanks to them that there can be "no fear" when it comes to thinking about the festival's second edition.
Marsh Creative Production launched this festival together with City Museum of Ljubljana.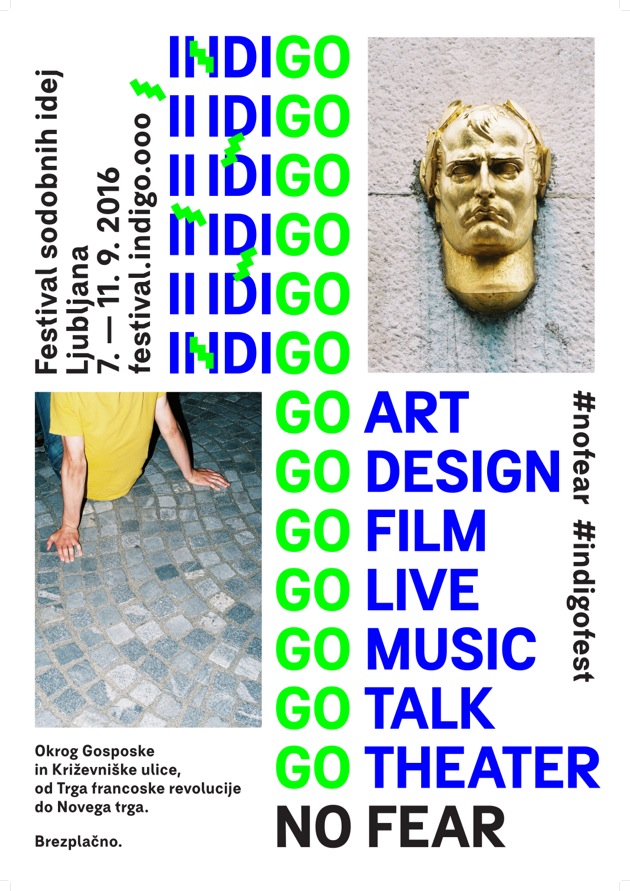 back
more pictures