The 2nd edition of the Kontakt Music Conference will be held in Belgrade from March 21st to 24th, 2018 with a rich and diverse program of 25 concerts and DJ performances and 3 exhibitions..
A total of 70 participants from 9 countries are expected.As last year, the conference is held before the upcoming festival season in our region. The central topic of this year's Kontakt is the self-sufficiency of the festivals.
The 2nd edition of Kontakt Conference will bring together representatives of the 18 most important festivals in Serbia, Croatia, Bosnia and Herzegovina, Slovenia, Montenegro and Macedonia, who will point out new trends through examples of good practice, inspirational discussions, creative panels and public discussions, and who will even more clearly map the region for the development of the music industry.
Kontakt 2018 locations: Marsh Open Space, Elektropionir, Zaokret, Sprat, SubBeernicentar, Ljubimac, Šikarica cafe and Cultural Center Dom omladine Belgrade.
Kontakt Conference is organised by: the concert agency Odličan Hrčak, Marsh Creative Production and Kišobran Collective.
Participation in the Conference is free of charge.
More about Kontakt at : KONTAKT CONFERENCE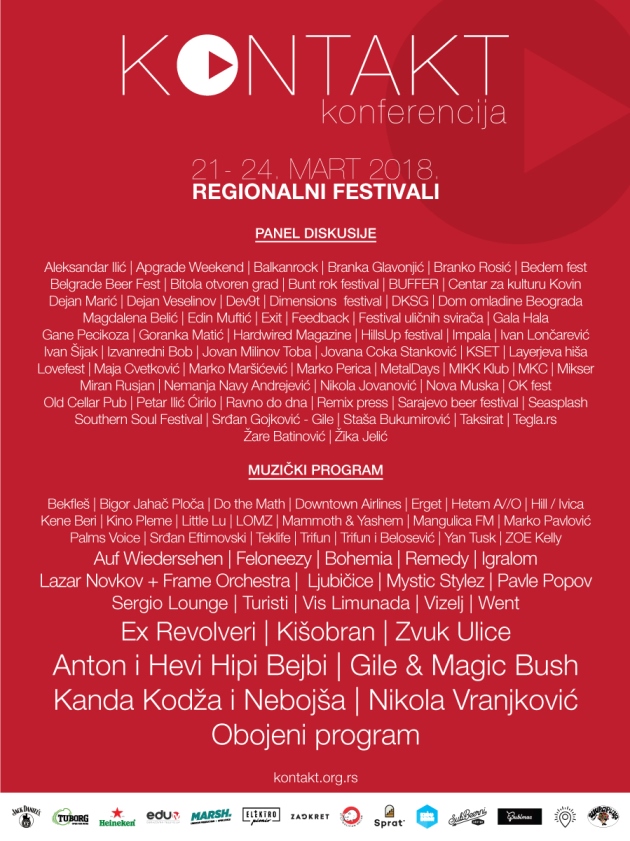 back
more pictures