Buy buy 2019, we work hard.
Marsh Open Space / 83 micro events;
Among others we hosted UNDP Serbia, UN Women Serbia, United Nations – Serbia, Lidl Srbija, Roche, Verisec Labs, Privredna komora Srbije, Exit Festival, Runda – Regional Association of Independent Discographers Balkans, NESCAFÉ, Coca-Cola, Philip Morris International, Johnson's Baby, Addico Banka, Labris Beograd, Vip mobile, Marina Abramovic, Johnny Depp., UEPS, Hemofarm Fondacija, Bibo Global Opportunity ,
We organized 3 exhibitions – Vesna Pavlovic, Voja Gostiljac, Ivan Šijak.
Marsh Creative production / 11 productions, festivals, conferences, events.
We won on the pitch for IQOS , start collaboration with company Philip Morris and produce first IQ Party. We were local support of the famous global conference World Minds, for the first Belgrade edition. Marsh Open Space become a member of European Creative Hubs Network. 2019 is also a year of our first decade. At the end of 2009 Maja started production company LWP, Marko has joined in 2011, we changed the name of our company and since then, we are developing Marsh Creative Production. In 2016 we opened Marsh Open Space.
In 2020 we have two more jubilees, first 5 years of Indigo festival and 20 years of Foundation Maja Maršićević Tasić / Osvajanje Slobode.
From 18th – 21th of March we will organize Kontakt Beograd no4, first time as INES Showcase Festival Network members.
We are looking forward for a new projects with our friends and partners Mikser, Supernatural, Videostroj, Krokodil Engaging Words, Preventer, CODA, Mestni muzej Ljubljana, IN BOX – Sajam Autića, Odlican hrcak, Executive Group, Holi Festival,
Thank you all for successful collaboration in 2019.
Keep on rocking in 2020!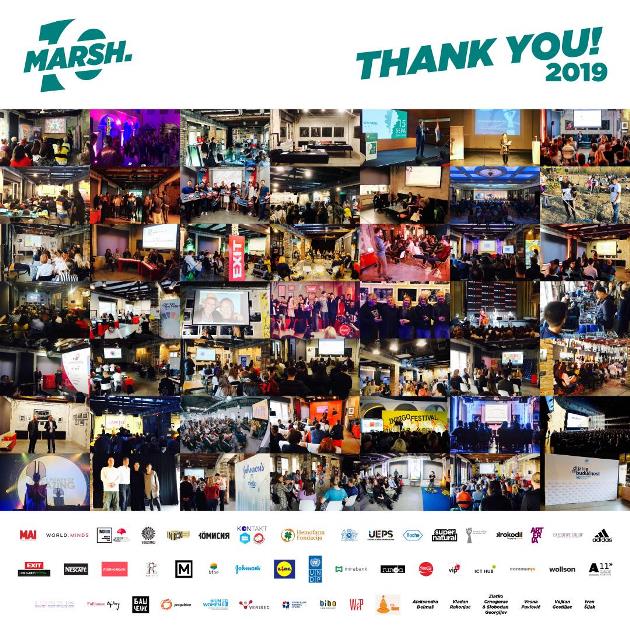 back