On December 17th, in front of full New Belgrade Sports Hall, YU Grupa, the longest running band on the local scene, held a spectacular concert celebrating its 45 years of pure rock'n'roll.
They gave the audience a real journey through almost half century of rock and roll, showing once again an incredible energy by which the band became and remained a recognizable.
With special guests of this real rock'n'roll spectacle, Radomir Mihajlović Točak, Koja "Disciplin A Kitchme", Zoran Kostić Cane "Partibrejkersi", Nikola Čuturilo, Zoran Milovanović,
the fans of true rock'n'roll enjoyed in various hits such as Čudna Šuma, Mornar, Od zlata jabuka, Kome se raduješ, Zaboravi, Opasno, Dunavom još šibaju vetrovi that have marked the past 45 years of rock'n'roll on our scene. They also introduced a few new hits from their upcoming album such as Panika, Evo stojim tu and Ko.
YU Grupa continues to be faithful to true rock and roll sound on their new 12th studio album (soon to be released).
The concert was organized by Studio Berar, Executive Production by Marsh Creative Production.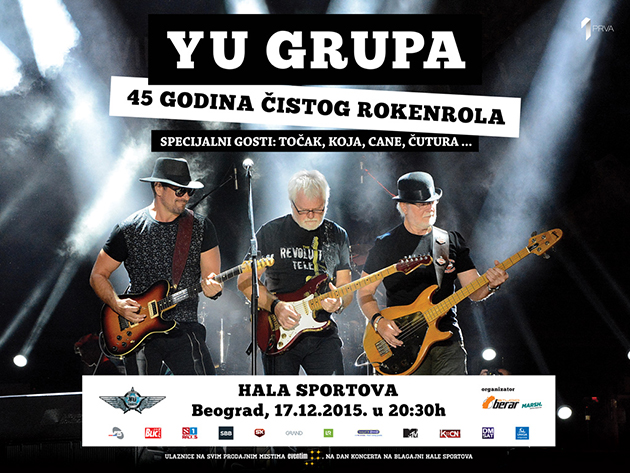 back
more pictures